I'm back from AnimeIowaaaaaaaaa!!!! LIEK WOA I HAD A GOOD TIEM. 8D HERE'S A SUMMARY OF MY HAPPENINGS FOR THE WEEKEND!! (Warning, this is just going to be me rambling about just about every single thing that happened over the weekend.

)
Thursday aka Panic Day
Just want to touch on how LOL AMUSED I am at myself now for how much I had to do the day before.

But I got by!!
Friday
Cosplay/Outfit: Casual Gothic Lolita
So, we finally got all packed up in the morning and headed out the door. I WAS SO FRIGGIN' HYPER THE WHOLE TRIP. I put some j-pop in the CD Player and was singing and dancing the whole way down.

Even called Ari (
alliechan77
), Fayt (
Fayt-Fiction
), Silvy (
silver-dragonetsu
), and SoJ (
sonofjenova
) in the other car and vented my hyper on them.

THEY WAS SCARED. >D
Arrived at the hotel, took some of my essentials for my table and went to get registered. Apparantly there was some confusion with Artist Alley peeps... Something having to do with my pre-registering before getting a table.

'Twas all good though, and we got it worked out.
So after asking for directions from several people, I finally ended up in Artist Alley and they had me pick a table, any table. So I picked a table... Felt like kind of a lamer for not having much to put on for show.

But I've learned some tips that will help me for next year. (And next year I think I'd really like to have an artist partner... Dunno if anyone *COUGH*MAYBESILVY*COUGH* would be willing to do it with me though. But my mom (
CherokeeCampFireGirl
) was my helper, so it was all good. Anyone who walked by me on Friday, I was in the black and white gothic lolita-ish outfit.

Went to the art show to drop off my prints for sale. Ran into some people along the way who saw my art on the forums and really liked it! Goodness, I was so surprised!! I also received some printing tips that I will keep in mind for next year.

Got back to my table and spent my first hours as an artist in public view. EEEEEEEEEE! Didn't get a whole lot of business, but I still really, really enjoyed it. All I had to sell for pre-made merchendise was the t-shirt chibis, which I still have many leftover. (See end of journal for merch listing) I also sold comissions and badge comissions. My badge comissions were by-far the best seller! Someone said I had the best prices for them.

I tried to keep my prices low since I was a newbie. I only got one reg comission, and that was from a friend.

But it's okie. I luff her for her support. <3 My neighbors were the awesome folks from BadCatsStudios! They were very experience in Artist Alley and they were a great support and very lovely overall. <3333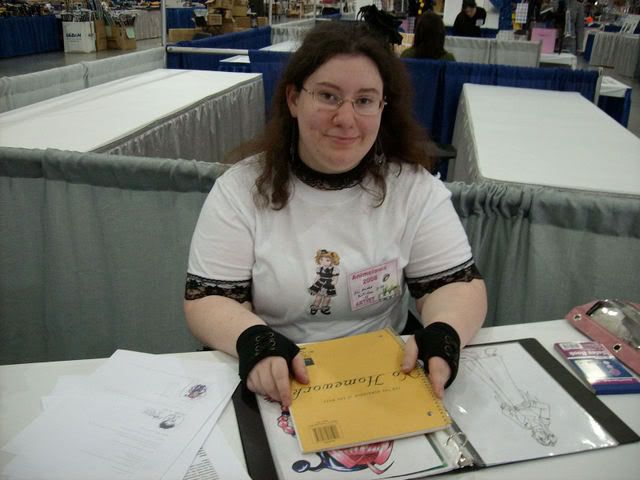 Me at my table.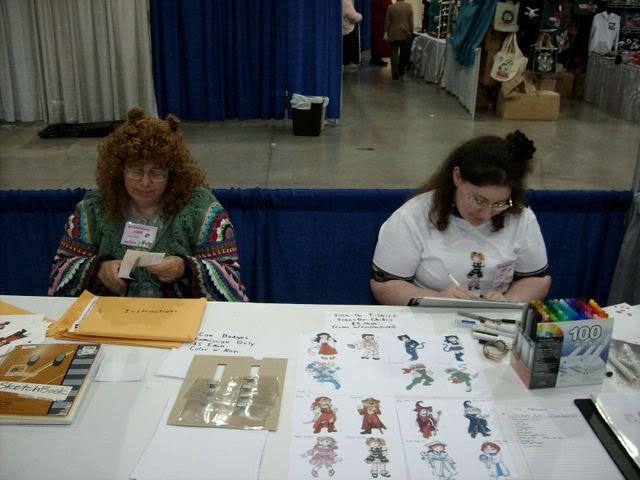 Me and my mom at work at my table. She cosplayed Molly Weasley from Harry Potter! And she was knitting! SHE ROCKS HARDCORE.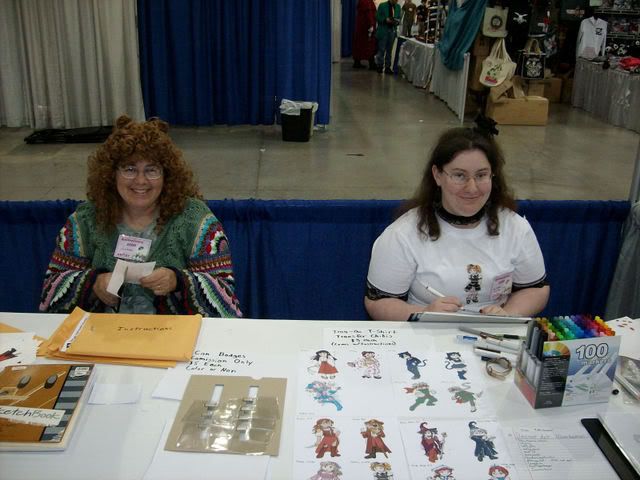 Another pic of the both of us at my table. We're all smiley!
Got visits from some people I knew, including
Komi-Tsuku
and
missy-tannenbaum
. MISSY GAVE ME A STITCH SPRITE!!!
IT'S BEAUTIFUUUUUUUULL. <3333333
The opening ceremonies were kind of...meh. They usually do some cool skit about the rules or whatever. It was mostly just Evan talking. (Not that I mind Evan talking...

He amuses me greatly.)
By the time the Ceremonies were over the Dealer's Room was closed, so I was off Alley duty for the rest of the night. I was originally planning to go to the forum Meet and Greet, but when I looked at the schedule I had a major OH NOES! The Artist Alley 101 panel by Studio OnY
GuardianSun
was at the same time. XP My mom was planning to go anyway so I had her tell everyone I was sorry I couldn't make it. T_T But apparantly Jeff (The forum admin) took the time to talk about how he's watched my art over the years and was impressed by my improvement, and how I got third place in the forum art contest.

ILU JEFF YOU'RE SO NICE.

But I am really, really glad I went to Artist Alley 101. There was a lot of stuff I already knew from asking on the OnY forums, but there were some things that I just DID NOT THINK ABOUT AT ALL. For one, next year I'll get some cloth to cover my table with--making it stick out is important! And for another, things sell better when they're layed out on the table for people to pick up and touch. So on Saturday I made sure to lay out my chibis on the table over the examples, rather than just keeping them in the folders.

They also touched on the subject of the fanart issue... Basically, Roku's opinion is that making 500 prints of the same image is more on the side of 'wrong'. But drawing one comission for someone of a character, and when it's done you give it to them, and they own it, that's not as bad because only one copy of it exists. That made me feel better about my badges. X3
After that I rushed the the Meet and Greet next door and finally got to chat with some people. X3 Had a nice chat with
Komi-Tsuku
about his visual novel work and the possibility of getting me on-board as an artist. The project sounds interesting and I'd love the experience. X3
Satuday night I went to participate in Karaoke. I waited for my turn a looooooooong time, and found out later that they misplaced my slip. D: But I finally got to sing "White Night~True Light" from D.N.Angel. Erm... My friends said I was good, but there was one gal in the audience who had a sour look on her face.

I dunno if it was because I was so high-pitched, or what. But meh, I got to sing and I was good. Not sure if I wanna do it next year though... There are other events at the same time that I think I'd rather go to.
It was after that that I got a shower, went down to the patio to do my nails for a bit, and went off to bed. Had an interesting conversation with Silvy while on the patio. We accidently discovered that 'gray hairs' sounds like 'Greg Ayres'.

(Sadly, I have them. T_T ) We were amused.
Saturday
Cosplay/Outfit: Rosalina from Super Mario Galaxy
Saturday I managed to get up early enough to make it down to cosplay chess, thankfully. For those of you who are unfamiliar with it, basically we reinact a pre-scripted chess match in our cosplays, acting in-character with our attacks, movements, deaths, etc. Unfortunately there wasn't much in-character behavior, which was disappointing.

I give the Midna and the Hunny the most points for acting in-character. Midna stood and walked in character, with the Midna 'I'm-too-good-for-you' yawning.

Loved it. And Hunny was so cuuuuuute! ILU HUNNY. <3333 I got to move a couple of times, but I didn't get to capture or be captured both matches.

Oh well, maybe next year!
A pic my mom took of Cosplay Chess.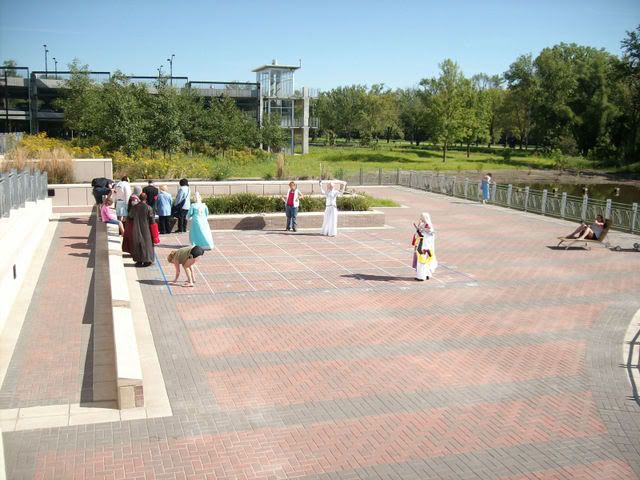 Here's a video of Cosplay Chess! I'm hard to see in the beginning but later I move and the camera focuses on me. I'm in my Rosalina cosplay, the cyan dress.
www.youtube.com/watch?v=i-AoS3…
After Cosplay Chess I skidaddled back to my table in Artist Alley. Spent the next few hours there, selling comissions, chibis, etc. Did take a bit of time out to do my own shopping though. Went by Fast Food Anime and got myself some manga with my $20 card prize from the forum fanart contest. <3333 My Tsubasa manga collection has finally started! Yayness. X3
I ran into another Rosalina!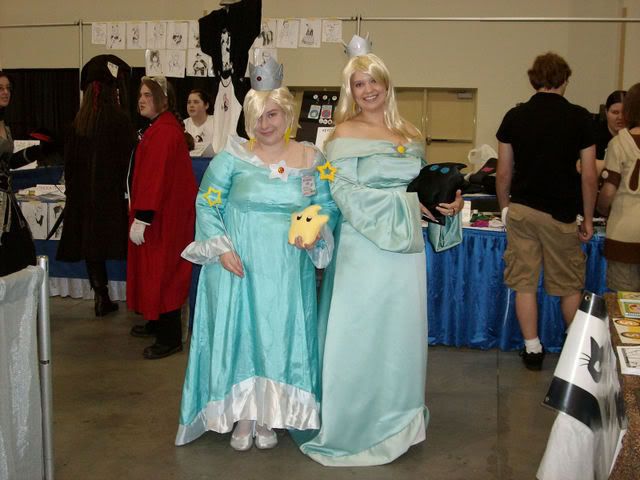 We loved what each other did with the costume and our plushies. Mostly I love her black Luma! It's lots of fun seeing someone else with the same character, but seeing how they did things differently.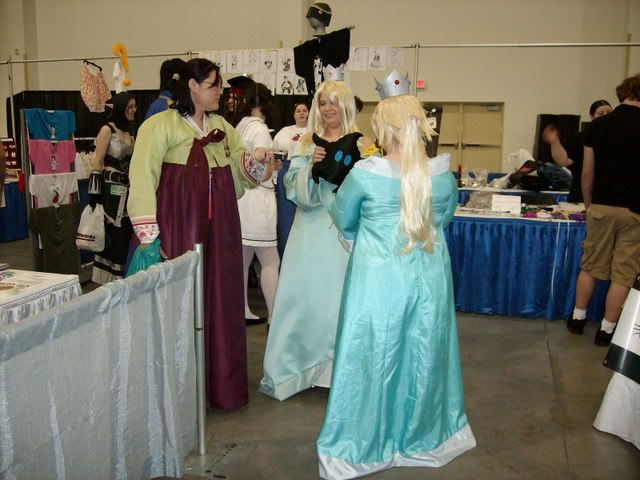 Us playing with our Lumas. <333 So cute!
Later my sister
VickyViolet
and I left for the Cosplay. She was Tetra from Zelda: the Windwaker. Waiting was kind of a pain and there were some stressful issues with trying to find a stage hand to talk to and trying to find someone to watch after Vicky's friend, but everything worked out alright. (In the end my mom ended up going to the cosplay with Jess, which she really, really didn't want to do. T_T I'm so sorry mom!!)
While waiting to go on-stage, I ran into the other Rosalina again and we started talking about cats.

LOL WE LUV OUR CATS. And later my sister and I took the Luma plushies and started making them sing and dance to "Pancreas" and "Virus Alert" by Weird Al.

We were very bored.
Finally, our turn to go on stage! I did get a chance to talk with the stagehand just beforehand, and she was very, very cool about what we needed done. Our skit went over well! According to my mom we spoke very loudly and clearly, and the crowd loved it. <3333 Not telling what we did though... I don't wanna spoil it! (But I can't find any vids of it on YouTube just yet... I may have to wait until I get my DVD of the cosplay and rip it from there.)
Afterwards my sis and I just hung out for a bit while we waited for the cosplay to end and the winning results to be announced. We didn't expect to win anything, but we stuck around anyway just because. My wig went off right when we got back to the waiting room--my wig-cap was getting tight.

And I lost one of my earrings, but thankfully someone returned it to me! That person was lovely. <333 If you're reading this, thank you! (Although I wasn't TOO frazzled about it--could easily make another one if I had to, and my cosplay was done for the day anyway.)
After we left I made a quick change and arrived at the Otaku -no- Yen: Live Action panel!!! IT WAS EPIC HILARITY.

The idea behind the panel was to take the blank comic page that Roku drew (Pics with blank speech bubbles) and fill in what we thought the characters ought to be saying. The winners were picked based on a round of applause... And to my dismay it was the dirtiest one that won. >_< OF COURSE. For anyone who was there and remembers, my comic was the Yaoi Desease with the 'RUN DRAZZ' at the end.

To clarify, the whole zit thing was me trying to play of a speck that was on Roku's face in almost every panel... And it was consistantly on her face. Was that a copy error or was that intentional? (Just checked the site version, looks like it was intentional. 0_o??? ) I just happened to notice it and decided to play off of it. I was surprised it made it to the initial finals! I didn't think it was that funny.

But Fayt's won second place! His was the kidnapping of Drazz and Greg Ayres by yaoi fangirls.

Amusing Fayt, amusing. (And was it just me, or did Drazz seem to be in a bad mood whenever he stopped by? I guess I won't try to make any jokes on him in future strips. TxT I'm so sorry Drazz!!! )
The blank comic can be viewed here!
www.otakunoyen.com/index.php?o…
And no, I'm not linking to the winner when they're uploaded. If you wanna see it look yourself, but I don't support such crude humor.
After the OnY panel I went and got myself over to the Art Jam. Looked like I arrived after all the games and stuff were over... *Le sigh* T_T I hope they did it again next year!! If they have it on Fri night I'll make it priority over anything else. (I just can't skip out on OnY Live Action, it's too funny.

) I did however get to chat with Beanchan, who talked my head off but she was still awesome!! <333 Thanks for chatting with me Beanchan! I was lonely until we started talking.

After that I caught up with Ari, Fayt, Silvy, and Izzy and we had a fun chat. Then I went to bed at about...3-4 am?

I torture myself.
Sunday
Cosplay/Outfit: Normal clothes with accessories.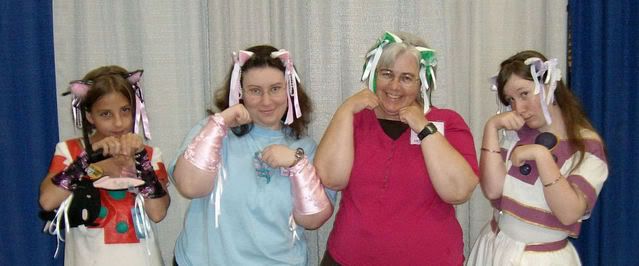 Pic of (left-right) Jess, me, my Mom, and Vicky in our kitty ears!! EVEN MY MOM LOOKS CUTE! I love how the kitty ears look with her hair. <333
Sunday I was just barely able to roll myself out of bed.

My mom was down at her "Japanese in an Hour" and "How to Write Hiragana" panel, so my sis, Jess, and I had to take care of packing up ourselves.

I managed to do it alright though.
After some breakfast and such I finally arrived at my table, later than everyone else.

I just couldn't be bothered to roll out of bed that early. T_T I'll try to make my table more priority next year.
Sold one more comission badge, although I made an oopsy on it that made the comissioner a little disappointed, so I gave her a couple of bucks back since I felt bad. I really should have asked her about it before inking it, but I opted to just get it done since I was running short on time and I thought she said she didn't care what the badge said anyway.

Oh well, now I know to ask and be sure.
My bro stopped by my table too, and it was great to see him!! I had lots of fun chatting with him, and it was cool that he understood that everyone at the con were all geeks, even if it wasn't his genre.

Cool. He was thrilled to see another guy's t-shirt though... "Raccoons with lightsabers - the real threat". Being a Star Wars fan, he really liked that.

Stopped by the art show to pick up a print I bought and take back what didn't sell that I put in. My Lilac Princess print sold! It was bought by the same lady who said she voted for mine in the contest, and told me how and why she liked it. And later she even stopped by my table and had me sign it!! :shock: THAT WAS AWESOME. Thank you so much, I'm glad you liked it so much!!!
(Deviation here)
Around 3pm we finally packed up and had to go home. T_T I was sad to have to leave so early, but my mom needed to get back home for a church workshop she wanted to go to that evening. I MISS YOU AIIIIIII!!!!
Shout-Outs
At my table I had a paper for anyone with a deviantART username to sign. Thank you to the following sooooooooo much for visiting my table!!





:iconsilver-dragonestu::iconvicky-violet:









:iconTamaki2:








(These are just those who I either remember coming by or signed my sheet. If you saw me and aren't listed here, let me know!!)
Leftover Merchendise For-Sale
Ok guys, I bought a ton of supplies before the con for my table, and only made enough to cover the table itself. (Not that I was really expecting more anyway.) I have some leftover merchendise that needs to go to a good home!!
T-Shirt Transfers
I worked hard on these chibis and not many of them sold. T_T They're printed on a special paper that can iron onto cotton cloth, and I will include a copy of the instructions if you buy one! They are $2 each. (Plus shipping) The following are the available chibis and the quantity I have left.
Black Mage Boy (4)
White Mage Boy (4)
Priestess (2)
Catgirl (8)
Catboy (7)
Magical Girl (7)
Geisha (8)
Black Mage Girl (3)
Pirate Boy (8)
White Mage Girl (4)
Gothic Lolita (10)
Ninja Girl (7)
Pirate Girl (8)
Sweet Lolita (8)
Ninja Boy (8)
Prints
Some prints I had available in the Art Show that didn't sell or I couldn't sell. All prints are $5 each (plus shipping) and have some kind of a white border around them, which can be cut off to be framed or matted as you like. And if you'd like, I can sign it for you at no extra cost. (And for some of them, if there was a poem or other descriptive text that went along with the deviation, you can ask me to write that on the back, also at no extra cost.

)
Shipping
$2 USD for those in the U.S., Canada, and Mexico
$3 USD for over seas
IRL Friends I can just give it to.

Please support me by buying my leftover merchendise!!
What Now?
So the con's over, what now? Not sure exactly what goals I have in mind. School starts next week and I'll probably be back at work, but hopefully not as much. I can now use my spare time to pick away at the other art projects I've been holding off, and finish Majora's Mask.

Also, my birthday's on the 27th of August... Only saying now cause I've had friends threaten pain on me for not telling them about my birthday ahead of time. 0_o;; Not as if I expect or demand gifts though. I'll be 20.